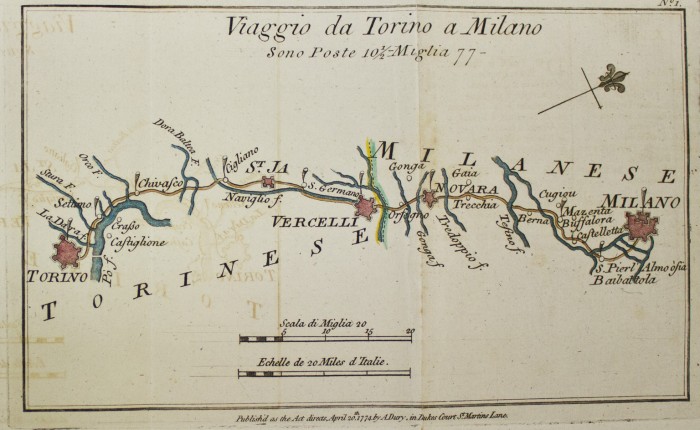 By Library Assistant Karie Jenkins
Le porte-feuille necessaire a tous les seigneurs qui font le tour d'Italie… (Roads of Italy: A guide book necessary for all gentlemen who do a tour of Italy…)
This book acquisition by  the Clark Library was made to compliment the recent collection acquisition of twenty manuscript notebooks and journals of  eighteenth century science, travel, and culture by Louis-Benjamin Fleuriau de Bellevue's Grand Tour of France and Italy, 1788-1791.

Fall has arrived at The Clark and many of us are mourning our summer vacations.  Just thinking about the possibility of taking time off to travel can make one absolutely wanderlust.  Some of the places one may wish to visit could be romantic and rich with history, or more picturesque and quiet.  Wherever it is we wish to go, we know transportation is reliable.  Traveling can be as simple as printing out tickets and jumping into a rental car with a built-in GPS.  Either way, traveling has become easy and efficient.  This level of advancement has caused the traditional use of maps and atlases to become antiquated. The maps and atlases of the past can tell us what travel used to be like back when these materials were essential tools for navigation.
Today I came across a bilingual travel atlas called "Roads of Italy," published by Andrew Drury [i.e., Dury] in London, 1774.  The atlas was printed in both French and Italian, as these were the primary languages of the time, and it was intended for the multilingual English traveler.  It has 27 hand-colored etched maps that fold out like mini-accordions.  The place names, cities, and landmarks were all printed in Italian.  According to the atlas, it can be assumed that being familiar with multiple, popular languages was crucial for navigation during the 16th century.
Aside from the maps, there is a section dedicated to the cost of room and board, and transportation.  Such questions are answered as will the English traveler be riding two horses or one?  What will the cost of lodging be and who are the most trustworthy innkeepers?  These questions of Dury's travel atlas evoke a rather intimate relationship between person and object. The atlas is not simply a book, but a dependable guide that offers reliable information during moments of wanderlust or business travel.  The knowledge of the regions were reflections of Drury and his contemporaries based on past experiences and word-of-mouth.
There is not much written about Dury's life aside from the fact that he was a member of the Duke's court and a publisher of various atlases, some of which are located at the Clark Library. We may not know who the atlas was printed for specifically, but we can certainly understand how people during the late 18th century approached travelling by analyzing these books.  Today, Dury's "Roads of Italy" can be seen as a tactile narrative of London's history of navigation.  No longer used for a utilitarian purpose, the atlas has transcended into an eminent relic, which pronounces how immensely difficult traveling was and how courageous the men and women were to pursue such a feat.