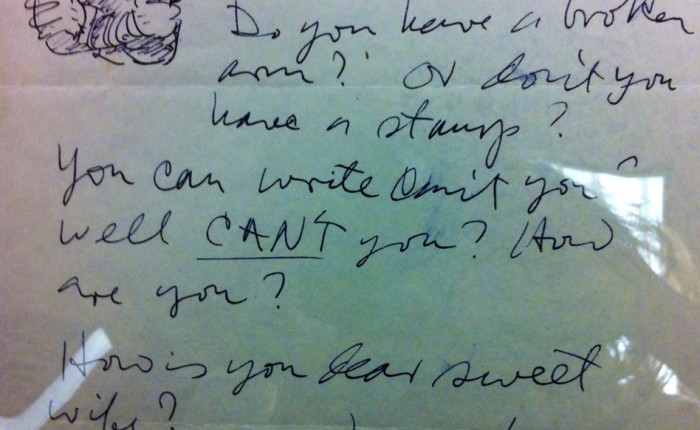 By Library Assistant, Nina Mamikunian
Over the Fall quarter I had the pleasure of working in the Clark's Paul Landacre archive. Landacre, born in Columbus, Ohio in 1893, was a self-taught wood engraver and illustrator who was active in fine press printing in Los Angeles beginning in the 1930s until his death in 1963. He first showed his work in Jake Zeitlin's bookshop, and over the years illustrated books for Zeitlin's Primavera Press and the Ward Ritchie Press. Landacre's engravings are incredibly detailed and his prints (he printed his work himself on a Washington hand-press) are stunning: dramatic and sultry, capturing both the tumult and serenity of the California landscape in stark black and white. Landacre's skillful and patient hand is evident in each line.
My research focused on Landacre's professional and artistic achievements but I couldn't help but lose myself in some of more personal material contained in the archive. There was the lock of Margaret's (his wife of nearly forty years) hair, the dance cards and track numbers from his college-athlete days, and scores of letters from friends from around the country. While not every letter related directly to my research questions, they helped immerse me in the Landacres' world. One of my favorites came from Delmer Daves, writing from a hotel in Berlin. The text of the letter outlines a particularly visible watermark on the hotel stationery.
Other favorites include a series of letters from a friend serving in the Navy in the 1940s who grew more and more exasperated with Landacre's lack of letters. (And Landacre did procrastinate with his correspondence. The majority of his own letters start with some variation of "sorry I haven't written to you yet"!)
Also striking were letters that reflected some of the turmoil of the times, such as this letter expressing support for Sueo and Mary Serisawa, good friends to the Landacres. Sueo, a painter, was a Japanese immigrant, and after the bombing of Pearl Harbor, the Serisawas left California for a time for fear of internment.  In the letter, Landacre says "It is my hope that Mr. and Mrs. Serisawa be accorded courtesy and consideration under all circumstances. They deserve it."
There are many more treasures in the Landacre archive. And for more info on Landacre, check out Clog posts, here and here!