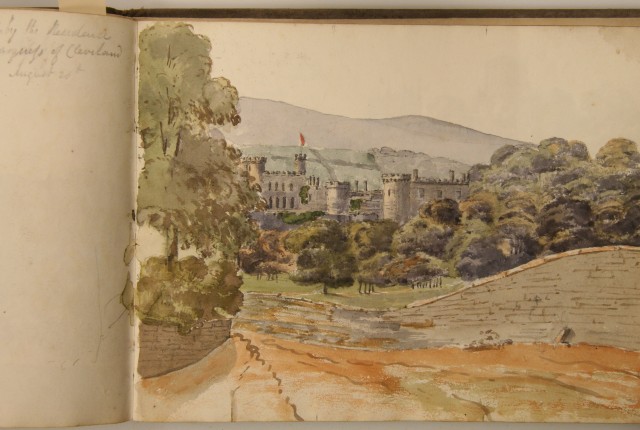 In 2008, the Clark Library purchased both the library and archive of the Savage-Armstrong family of County Antrim, Northern Ireland, a collection that contains a wide variety of material collected and produced by George Francis Savage-Armstrong (1845-1906), his children and other various family members. George's brother, Edmund John Armstrong, was a promising poet before his early death in 1865 at the age of 24, and George himself was a quite prolific and popular poet and scholar until his 1906 death. He came under harsh criticism from literary revivalists, particularly W.B. Yeats, and is now seen as a mostly marginal figure in Irish literature.  Though the majority of the papers and manuscripts in the Savage-Armstrong collection were written and created by George and his children Francis S.N. (1880-1917), John Raymond (b. 1882), and Arabella Guendolen (b. 1885), there are also several items produced by members of the extended Savage-Armstong family, including this album of watercolor scenes, by an unknown member of the family.
Containing watercolors of scenes in England's Lake District, County Antrim and Greece made between 1828 and 1831, the album provides lovely look at the travels of an accomplished watercolorist and a glimpse and his or her work process. Only a handful of the watercolors in the volume are completed – many only have the shadow areas detailed, or are simply incomplete pencil sketches.
The drawings of Greece are of particular interest, as they show multiple views of the Acropolis and surrounding areas as they were during the artist's visit in December 1830 and January 1831.  Above, the "Gate of Adrian" as seen from the artist's vantage point, "leaning against one of the Pillars of Jupiter Olympus."
The entire Savage-Armstrong family archive is described in a finding aid available via the Online Archive of California.  The printed books from the family's library are cataloged as a part of the Clark Library's rare book collection under the call number prefix "Armstrong coll." and can be searched via the UCLA Library online catalog.
All images from [Watercolor album of scenes in England, Ireland and Greece] 1828-1831, MS.2001.007, part of the Savage-Armstong Family Papers.  William Andrews Clark Memorial Library, UCLA.