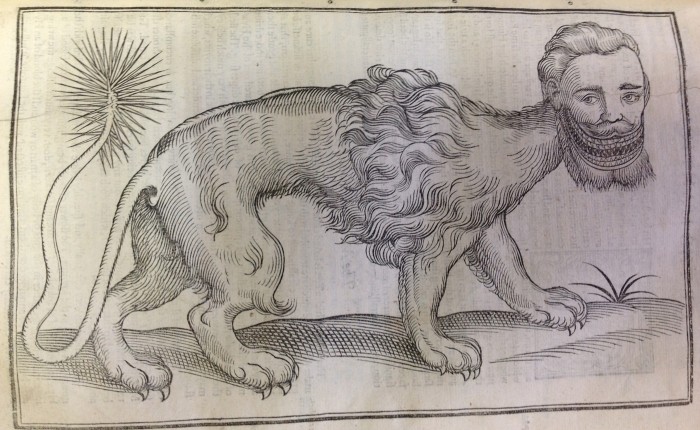 An exhibition of highlights from the Paul Chrzanowski Collection will be on view at the Clark Library from January through April of 2010 (more anon). In the meantime, as a tease, we'd like to bring your attention to an item of interest, Edward Topsell's Historie of Foure-Footed Beastes, published in London in 1607 by William Jaggard, the same man who would go on to print Shakespeare's first folio.
This edition, of which our copy is bound with Topsell's Historie of Serpents, is largely a translation of Konrad Gesner's Historia animalium, a five-volume work first printed in the mid- to late-16th century. This historie describes animals familiar to Topsell, as well as those he probably heard about second-hand, including both real and imaginary creatures.
His entry on the unicorn questions, but doesn't preclude, their existence, although his descriptions of the Aegopithecus and the Sphinx may just be a misunderstanding of actual faunal specimens. Topsell's beastiary is most accurate (and in depth) when discussing horses and dogs. Other familiar animals, like cats, have quite long entries as well.
This particular copy has an interesting provenance. It was owned by John Lockwood Kipling, the principal of Mayo School of Arts in Lahore, India, the curator of the Lahore Museum, and the father of Rudyard Kipling. The elder Kipling illustrated many of Rudyard's books, including his most popular, The Jungle Book. He obviously drew as an eye-witness (or from more accurate images) rather than relying on this book from his library as a source of reference. The particular copy was later given to naturalist and explorer, Henry Wemyss Feilden.
Paul Chrzanowski's donation of early English literature is being cataloged. About half of the 72 books given to the Clark Library are now represented in UCLA Library's online catalog. The most direct way to search is by call number. Simply type in, "Chrzanowski" in the Call Number search option (use the drop-down box) and voilà: a list of what is currently available will be sorted in date order. Please contact us if you have specific questions.
Nina Schneider, Head Cataloger