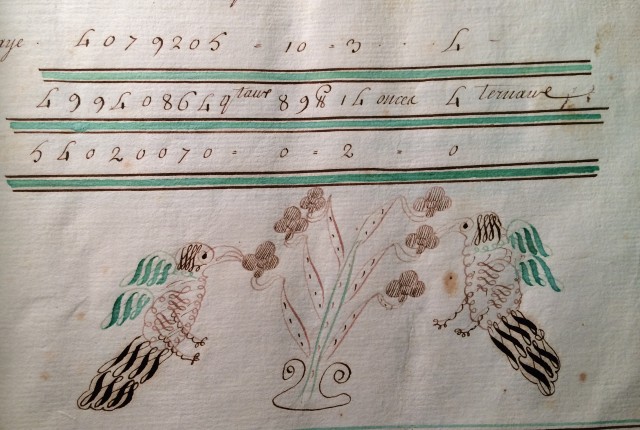 The Clark recently added two 18th century French manuscripts to its small but interesting collection of schoolchildren's arithmetic cipher books.  One in particular, that of Dominique Richaud from Aix-en-Provence, is particularly notable for its elaborate and colorful illustrations.
The tradition of the calligraphic arithmetic notebook was well-established in Europe and in colonial North America during the early modern era and these artifacts of past educational practices are not uncommon in special collections libraries.  However, because until recently they have been little studied and because there is no standardized vocabulary for their description, they seem to fly under the radar.  Most of the arithmetic cipher books at the Clark were purchased in the 1950s and they do not appear to have gotten much attention as a collection until the current staff started recataloging the manuscript collections in 2008.
Dominique Richaud's cipher book is a particularly beautiful and exciting example of this document genre, with its multicolored decorations and illustrations.
Instead of working and  learning from math textbooks, students – and teachers – used cipher books like this as reference when it came to figuring out how to solve math problems both in the classroom and in the real world.  Students would copy correct answers into their cipher books and then illuminate the page with illustrations and embellishments.
Compared to the other arithmetic notebooks at the Clark, Richaud's is much more colorful and much more elaborate.  It is also much larger – most are quarto and octavo size, while Richaud's book is a tall folio.
We are excited about the addition of these two French cipher books to our collection, which until now consisted only of English examples of the genre.  You can find these new acquisitions and all of our other calligraphic cipher books in the UCLA Library Online catalog using the keywords arithmetic and calligraphy.
Dominique Richaud, Ce livre de compte a ete fait a Aix…, MS. 2014.008, William Andrews Clark Memorial Library, UCLA.