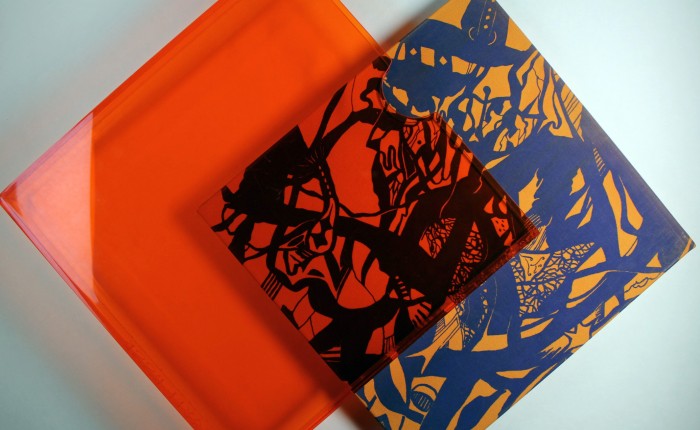 by Cataloguing Assistant Alejandro Sanchez Nuñez
Aside from libraries wishing to protect valuable materials, avid book collectors, and Folio Society aficionados, slipcases are not usually regarded as vital to a book's anatomy.  These box-like enclosures, often fashioned out of paperboard, cardstock, or cloth are used to maintain the physical integrity of books protecting them from light and dust. One or two of the sides of these custom-fitted cases is left open to allow the book to slide out when needed and also to display the book's spine while it is shelved.
In recent times, many independent and private printers have used slipcases not only as a protective agent but also as an important element to embellish a book's appearance. Browsing through the Clark's Fine Press collection, perhaps the most interesting types of slipcases are those of the Arion Press.
The press was established in San Francisco in 1966 through a partnership between Robert Grabhorn and Andrew Hoyem. Renamed Arion in 1974, it began publishing artists' books and limited editions in 1975. Hand craftsmanship and the use of artisanal materials characterize all Arion publications. In crafting these, usually two or three per year, Arion uses original type sets from Mackenzie & Harris, the oldest surviving type foundry in the United States, which Arion has owned since 1989.
The following selection from the Clark's holdings of the Arion catalog shows how slipcases can surpass their ephemeral nature and become an integral part in the design of their corresponding books.
---
A Travel Book by Fred Martin. (1976)
Arion's first livre d'artiste is a collection of travel journal entries from noted artist and former dean of the San Francisco Art Institute, Fred Martin. Additional pieces of text include quotations from 19th century travel writings. The nature motifs of the silk-screened purple and orange cloth covers stand out as the book is housed in its plexiglass slipcase.
---
Flatland: A Romance of Many Dimensions by Edwin Abbott Abbott, with art by Andrew Hoyem. (1980)
The 1884 science-fiction novel receives a futuristic look with some unique design elements. The aluminum covers slide out of a clasped aluminum case. Also, the whole book, or volume, can be unfolded from its tri-dimensional form into a two dimensional plane that extends to thirty feet.
---
The Great Gatsby by F. Scott Fitzgerald, with art by Michael Graves. (1984)
The Arion edition of the Fitzgerald classic includes drawings by famous architect and designer Michael Graves. On the covers and slipcase, and also throughout the book, we find drawings of the buildings, automobiles, and even the cocktail glasses described in the novel.
---
The Hound of the Baskervilles by Sir Arthur Conan Doyle, with art by Michael Kenna. (1985)
The front and back covers, as well as the slipcase, of this edition of the Sherlock Holmes novel include photographs by famous English photographer Michael Kenna. The black and white landscape photographs capture the eerie atmosphere of Sir Arthur Conan Doyle's description of mysterious Dartmoor.